So you've decided to go with a country western theme and add some Western Furniture.
There are many kinds of western furniture to choose from so let's look at a few popular types to start with. For me personally, when I think of an old west bar room I think of squeaky wooden chairs.
Yeah, most people don't want 'squeaky' chairs these days but that image sticks in my mind. Basically, everyone wants an 'OLD WESTERN' look and feel to complete their theme room because Western Themes look awesome!
Hand Carved – Authentic or Not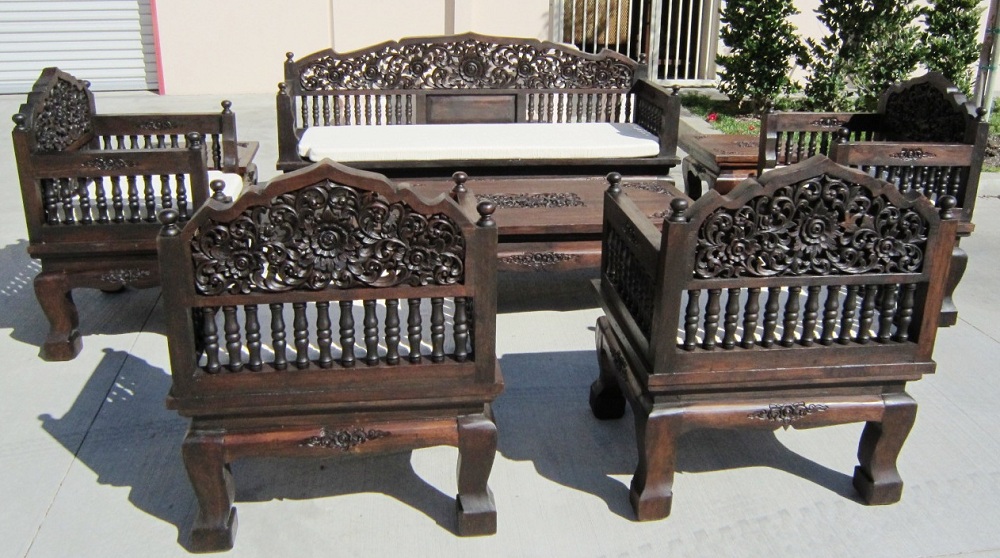 Just think about it for a second. Hand carved chairs, bar stools a, d tables. Perfect for playing any game while hosting a party in your home game room.
Hand Carved Furniture has the look and feel of the old west and not that modern, comes from a manufacturer fake look. You want the real Old West not the "Plastic" Old West.
Log furniture may also be a great idea. Chairs and tables made with logs or carved from logs really would make you feel like you're out on the range.
Then again furniture that gives you the western look you want whether hand carved or not will be a success. Now I'm going to contradict myself here because honestly it really doesn't matter what the furniture is made of. Just as long as it fits into the western theme you're creating.
Wagon Wheel Table
You must not forget about the tables. There is no better way to enhance your cowboy theme room than with a wagon wheel table.
There are various wagon wheel table designs out there but sometimes they're hard to find. You CAN find the wagon wheels themselves and build your own table. Talk about personalizing your theme room! No matter which route you go Wagon Wheel Tables make great poker and snack tables.
But don't stop there. If you like the "Wagon Wheel" look you can find benches, lamps, chairs, chandeliers and more made from wagon wheels.
Crate Furniture
If you wanted something a little different then crate furniture is a nice alternative. You can find some old western crate furniture online or make it yourself out of new crates.
Just paint and place a few in your game room for sitting. Not too many though. It'll give you the look you want but may not be the most comfortable for your aging friends and family members.
Western Style Bar Furniture
Don't forget that you can always go with the regular bar stools, chairs and tables that have a western theme. Those would look just as good as wooden hand carved furniture.
Shades of brown always work nicely within a western theme room.
Some Other Furniture
Here are a few other ideas. A country love seat instead of a large couch would fit your western furniture look. An old wooden planked chest to hold all of your gaming supplies or a wooden cowboy hat rack.
This list could go on and on! It all really depends on your wants and needs. Hopefully, you now have some more cowboy theme room furniture ideas to work with.