Although Sherpa and fleece are similar fabrics, it is the treatment of the brushed nap that gives Sherpa its thicker pile and creates the difference in warmth and thickness. Let's take a look at the differences in more detail.
Brushed nap

Sherpa fabric often feels thicker and softer, resulting in a war mer feel than many fleeces and closely imitating authentic sheepskin. Fleece is often more lightweight and has less bulk when used as a lining.
Warmth and thickness
Sherpa fabric tends to be considered the warmer of the two. With a thicker brushed nap than fleece, Sherpa fabric, sometimes called faux-shearling fabric, aims to replicate the warmth and feel of real sheepskin. Its velvety smooth softness makes it an ideal lining for a jacket or coat. For the ultimate in warmth and weather protection, pairing Sherpa hooded tops with Lyle & Scott jackets will mean you are well prepared for any weather.
Fleece also offers warmth qualities and can come in a wide range of thicknesses. The surface is smoother than Sherpa fabric. According to Fibre2Fashion, fleece can be formed from recycled material, which is excellent news at a time when sustainability and responsible sourcing are so important.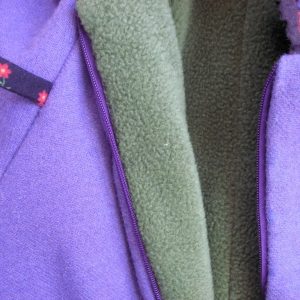 For practicality and warmth when pursuing outdoor activities, layering clothes is most effective, especially for changing weather conditions. Combining a light fleece jacket with a lightweight puffer, such as one of the Lyle & Scott jackets, is an ideal combination for later autumnal days in the city when the weather is still fairly changeable.

Waterproof

Both formed from manmade fibres, Sherpa and fleece have some level of waterproofing qualities. Neither will fare well in the rain but they can offer good protection from the wind. Layered with Lyle & Scott jackets that offer excellent waterproof and warmth qualities, they would work well with any outfit.

Which is best?

Sherpa and fleece are similar fabrics that are great for a wide variety of uses. They are excellent for layering and offer versatility for the ever-changing weather. Available in an array of weights and colours, you will always find a fabric to match your look. They only require a quick cold, delicate wash with a drop of detergent and a quick fluff with your fingers whilst hanging out to dry. Fleece and Sherpa are both great fabric choices and neither is a clear winner.a