Summer can be an awkward season for men's fashion. You'll be too hot living in the usual jeans, but it's not enough to just throw on a pair of shorts and hope for the best. What will you put on your feet and what material is best to wear? 
T-shirts
A few good t-shirts are a wardrobe essential – airy and lightweight for those hot summer days. Stick to colours that won't go out of fashion too quickly and will last a few summers. Whites, greys and navy are classic colours, as is black, but you might want to skip a heat-absorbing colour in the height of summer! Crew necks are the most flattering. V-necks are passable but avoid any that are too deep.
Shirts
For those who need to retain a professional air during this season, you'll need a light material to prevent you from turning into a sweaty mess. Stylish shorts can easily take you from day to night so choose a white linen to keep you cool and looking sharp.  You might even get away with some smart pays while its warm in a Nightclub Cheltenham whilst dancing to your favourite music.  Take a look at links including https://www.undertheprom.com/ to see what options you have and get their location so when you have had a couple to drink you will still be able to find it.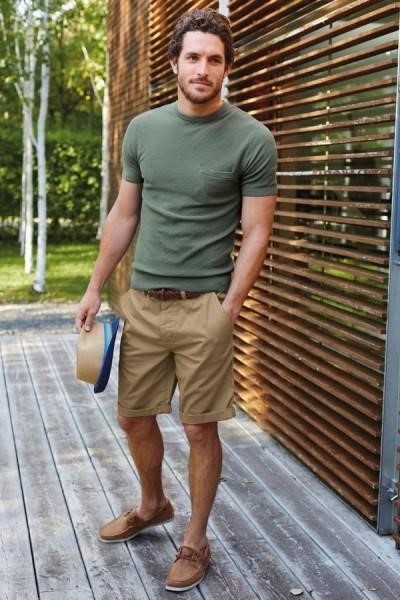 Trousers and Shorts
When choosing shorts, try to avoid 'short' shorts. Ideally, they should sit a few inches above your knee. They shouldn't be excessively bulky with lots of cargo-style pockets as this will affect your silhouette. They shouldn't be overly baggy or too roomy either but avoid wearing them too tight or you're venturing into uncomfortable territory!
If you're not a fan of shorts, lightweight trousers are a perfectly acceptable option. Not as heavy as jeans, a classic pair of chinos in a light colour will provide airiness, can be dressed up or down and still look stylish.
Shoes
Again, light and airy is what you're seeking. Boots are not a good idea, so invest in some lightweight trainers. They go with most outfits, can be stylish and dressed up or down. Avoid anything too bright or patterned that might go out of season too quickly. Neutral colours and canvas also work well during the heat of summer.
Brown loafers are a further option if you feel trainers aren't the right look for you. Brown is more summery and will also go with the majority of items already in your wardrobe. They can easily be worn with shorts or trousers and when teamed up with a button-down shirt, you'll have a super stylish cool summer look.
Belts
You'll most likely have heavy-duty leather belts for the autumn/winter seasons but consider swapping these for lightweight canvas ones during the warmer months. Not only will it feel better and cooler, but will suit your lighter fabrics too, removing bulk and improving your look.