Turn your bedroom into a quiet and relaxed space using soft colors in the decoration. Make your room become a refuge of rest and thus get the peace we need. Here we leave you some ideas and photos that can be of inspiration.
Use of Soft Colors
The soft colors give us that feeling of relaxation like blue, green and some purple tones and pastel colors. Equally, neutral ones like white, beige and even gray, also contribute. This bedroom is decorated mainly with walls in a very soft celestial tone. To reinforce this concept of achieving a relaxing environment include decorative pillows, curtains, and green sale sofa.
Create a peaceful Theme Bedroom
Your beautiful room can reflect peace through a decoration that reflects the sea, the sand. Here we see a beautiful white wooden bed and walls painted in soft green and horizontal lines sand colored. The side lamps have a perfect design for this style. Small decorative pictures are included, on the headboard, related to the sea. We can also see other decorations in the area of the foot of the bed as the large basket, glass elements, and some books. In addition, the shade of green used for the bedding adds interest and freshness to the room. Keep reading Beautify Your Home with the Right Furniture
Celeste and Beige Bedroom
In this bedroom walls are added in pastel blue, a perfect alternative to illuminate and give life to the environment. Also beige is added to the cushions, sofa, curtain, and carpet, making space look cozier. Accents of gray-blue are added for some fabrics such as blankets and cushions.
Bedroom with Different Shades of Purple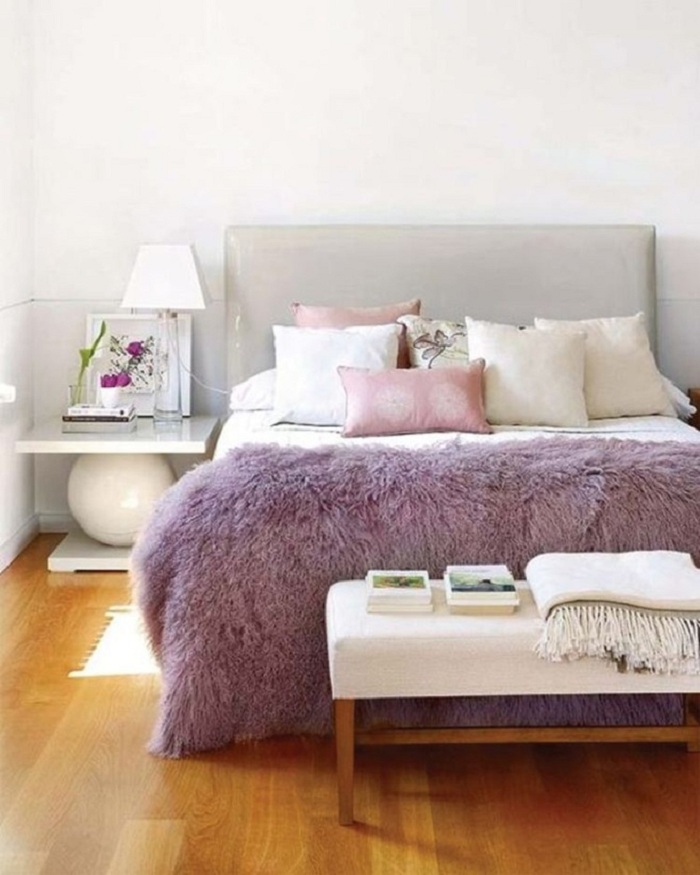 This is a beautiful female bedroom with a beautiful lilac blanket that becomes the protagonist of the environment. In addition, pink cushions are added, and an occasional detail in purple like the cute blanket at the foot of the bed. We can also distinguish the use of varied textures and shapes to balance this beautiful bedroom.
Gray and White Double Bedroom
Cozy and romantic bedroom with walls in gray, very well lit and ventilated by its large windows and style of transparent curtains.
Relaxing and Traditional Bedroom in Blue Gray and White
Soft, relaxing gray-blue walls and a large bedroom with two classic accent benches at the foot. Carpet in cream with decorative details in very subtle floral patterns.
Bedroom with walls in green water
The water green color is a great color to create a quiet environment for the master bedroom. This space includes accents of color in camel color that give an air of warmth to the room.
Romantic White Bedroom
This is a great decoration and is ideal to create a romantic, feminine and elegant look. The bed is the focal point that includes a beautiful canopy with transparent fabrics to the sides. Another amazing detail is the beautiful chandelier with crystal details. Next, to the bed, we see a beautiful lamp with a purple screen. It's on a coffee table painted in pink. And, finally, to complement this wonderful decoration, decorative paintings with different types of frames were added but in a similar size.
Warm and Cool Chamber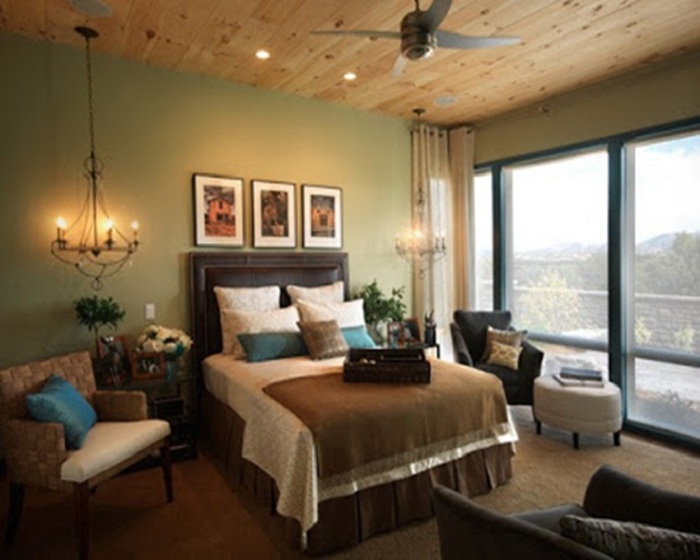 Another relaxing example of bedroom design for the couple with a large window and great view.
It has olive green walls, beautiful hanging chandeliers towards the sides of the bed that give it a romantic touch as well as soft blue accents on the decorative cushions.
Elegant Double Room
Another relaxing example of bedroom design for the couple with a large window and great view.
It has olive green walls, beautiful hanging chandeliers towards the sides of the bed that give it a romantic touch as well as soft blue accents on the decorative cushions.
Elegant Double Room
A casual and youthful style for the double bedroom with blue accents in the bed. If you need to save space, do not hesitate to include a headboard with storage space as in this model. It has two side bedside tables and five spaces to store what is necessary. An aspect that highlights and creates interest in the room is the background of this piece of furniture that marks the contrast with the striped walls.
Small and Simple Bedroom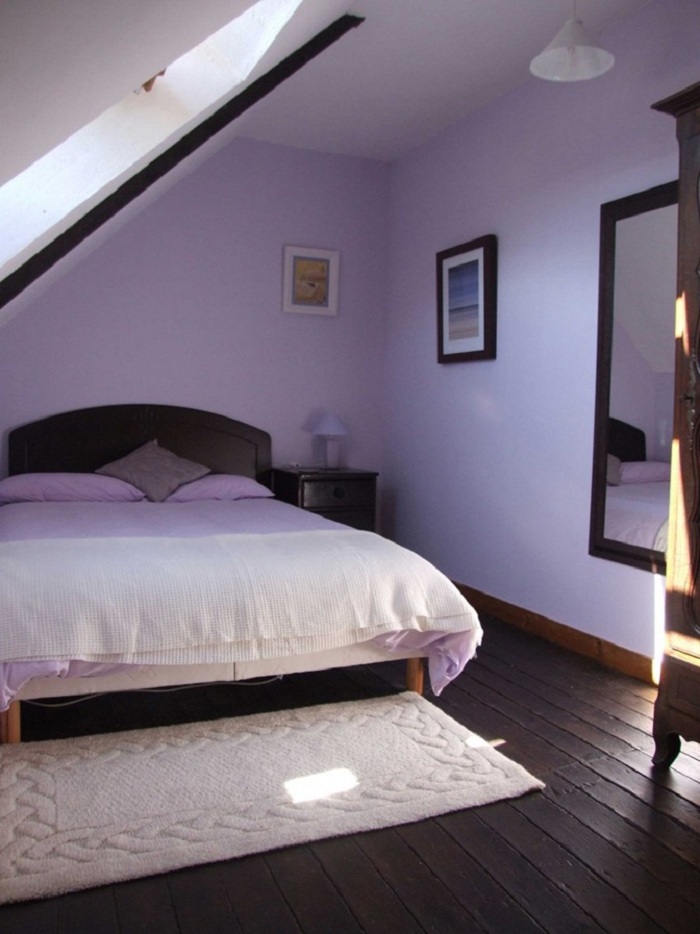 This is a nice bedroom with a sloping wall. The walls are light lavender and frames with dark wood frames in the same tone as the furniture. A simple bedroom, relaxing and cozy.
Bedroom decorated with olive green walls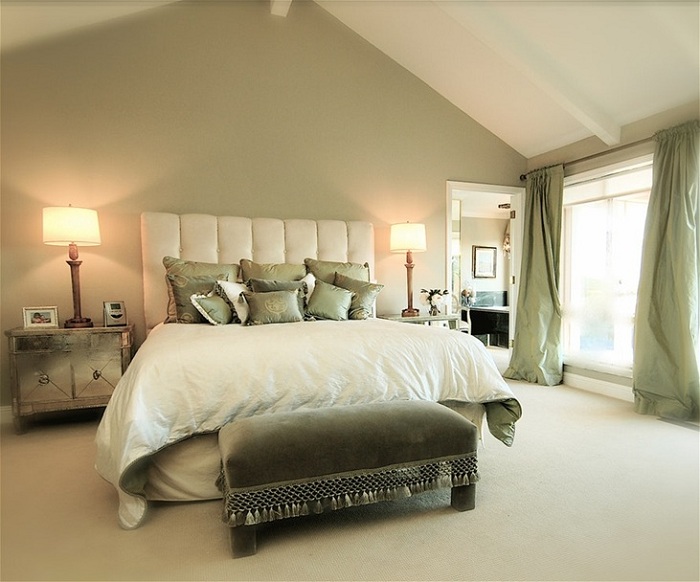 For those who love green and look for a tone that brings calm to the room, you may like this decoration. Primarily neutral shades such as gray and white are used for walls and floors. We see olive in a clearer range as accent color spread in different areas of the environment. Finally, details are added in a metallic finish that creates a very elegant and luminous effect.
Simple Decoration with Flowers and Lilac Color
Here we see a small and relaxing bedroom decorated with accents in lilac and flowers. The bed does not include a headboard, but this area has been painted with this soft color. In addition, three small decorative boxes with violet background are placed.
Bedroom Decoration with White Furniture
In addition to including soothing tones, a four-poster bed is a great addition to convey that feeling of relaxation. The variety of fabrics used to decorate the bedroom help to make it a very cozy space. Also, the pastel color of the wall and the decorative details used help to harmonize that refuge.
Very Feminine Bedroom
Finally, this is another great color combination ideal for girls. Walls in light blue pastel, white furniture, beige carpeted floor and metallic decorative details. Also, flowery details and pink accents.
Finally, this is a very elegant bedroom with soft and bright tapestries in silver. This color accompanies the gray on the walls and carpeted floor.
These were some ideas of matrimonial bedrooms in soft and relaxing colors. An option that you can consider to bring tranquility to your resting environment.
You may also like https://houseilove.com/rooms-decorated-in-blue/