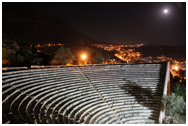 If you are thinking of holidaying in Turkey either later on this year or perhaps next summer, you should take a look at Luxury Villas in Turkey from https://kas4villarentals.com/. Kas is a beautiful place set in the Southwestern area of Turkey along the Mediterranean coastline. The modern-day town resides on the ancient town on Antiphellos and you can still see ruins of this in the area.
The town has a typical Mediterranean feel to it with whitewashed building fronts, large sun terraces and the streets beautifully adorned with pink Bougainvillea flowers. There are many bars and restaurants to be found in the town and of an evening many people can be found in the town square simply enjoying each other's company in the beautiful surroundings.
Kaputas Beach is not far from the town of Kas and boasts some beautiful electric blue waters and sandy beaches that are the envy of every seaside town in the United Kingdom.
If you are a fan of the water, then one of the most popular activities to take a part in is snorkelling. The waters are so crystal clear that you can clearly see many different types of fish and even giant sea turtles. There are canyons, several reefs and even some wrecks that you can explore, depending of course on your diving experience. There is the wreckage of Dakota D-C 3 plane that is around 17-35 metres deep and can be explored fully both inside and out. You can take part in a well organised dive from one of the many dive centres around the area.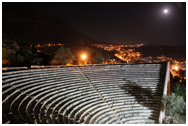 If you are looking for a bit of culture and local heritage and history, then it is definitely worth visiting the old amphitheatre. It is in incredible condition and during the summer months concerts still take place for all to enjoy.
A Friday market is the best place to shop in the town and is a small walk from the town centre. At the market you can buy everything from clothes and shies to fruits, vegetables and Turkish delight and little trinkets to take home with you. It really is a tourist shoppers paradise.
If the water and shopping aren't really your cup of tea and you are looking for a bit more of a thrill then a simple drive up the mountains will see you in the right place to take part in paragliding. You launch from the paraglider point towards the beautiful waters and glide over the town before landing in the marina area.
Kas really does have everything that you want from a break away in Turkey.
You may also like to read this content Homemade smoked salmon: how to prepare it?